Technology Used By Gist Specialties
Adding technology to our traditional skill set has made production faster and more accurate. With our CNC and Scanning technology, we are able to create large, more detailed fabrications. The sky is the limit as we add new machines, technologies and experts to our team. Paired with our digital printers, we are your one stop shop to accomplish any custom fabrication.
Our Partners
Minolta 910 3D Scanner
It is now easy to change object scale, duplicate existing items and take exact measurements of spaces.
Do you have a vase that you need 100 copies of? Or maybe you have a small sculpture and want ten foot tall version? We can scan any object, make changes, change the scale and produce whatever is needed. We can also measure a project space to make sure elements will fit correctly at installation time.
Anderson 5-Axis Router with 48" of Z
Gist can produce samples and mold patterns from existing originals or 3D files faster than ever.
When existing samples are not available, or when items have been created digitally, we use 5-axis CNC machines to manufacture originals. This ensures accuracy, sharp details, and quick turnaround. All completed objects go through a quality control process to ensure dimensional accuracy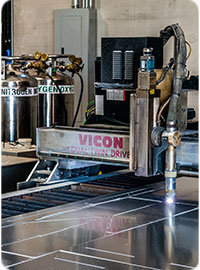 Vicon Elite High-Definition Plasma Cutter
The Ultimate in Precision Performance
When it comes to high end precision cutting systems, no other solution brings more to the table than the Vicon ELITE high precision plasma cutting system. The only feature more impressive than its accuracy is the incredible versatility of its options.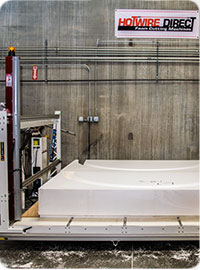 Hotwire Direct Foam Cutter 8300 CNC
High speed, quality cutting, and flexibility.
This CNC foam cutter will produce amazing results for use in 3-D sign making, architectural foam, decorative precast concrete mold and model making, theming, set design, industrial prototyping, and more.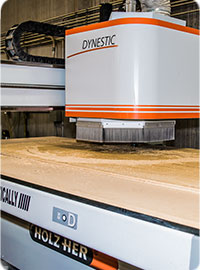 Holz-Her Dynestic 7516 3-Axis CNC
Efficient Nesting with High Potential for Automation.
Our solution for custom production for specific customers – even for small lots. Perfect nesting and cutting technology with mature software for rectangular and free-form nesting. Our unique high-flow nesting table offers extremely high suction forces for your workpieces.