Conversation Book
Your own projects can seem like a moon shot with details large and small that require talented people with a range of skills as big as the planet. You need your own NASA, teams of do-it-alls that make things happen.
Gist creates one-of-a-kind themed fabrications in fiberglass and other composites, natural and cast stone, even steel, aluminum and wood. Really, we can work in any material to build and install custom furniture, fixtures and architectural elements for resorts, restaurants, clubs, museums and retail environments. But that is not everything we can do for you.
Many Gist projects begin with a question, "Can you…?" We answer emphatically, "Yes, we can do that," opening the door to fulfilling our customers' wildest expectations. Look at your own projects. Not only can Gist handle the architectural details on the floors, walls and ceiling. It is the large sculpture or fountain in front of the building or in the lobby; the counters at a resort's check-in, concierge and valet; and the benches and trash receptacles in the public spaces. Even the custom light fixtures. We can engineer, build and install it all.
You might need traditional millwork to beautify a large hall or a robotic sculpture that breathes fire. In either case, we choose to go to the moon.
>>Download Conversation Book PDF<<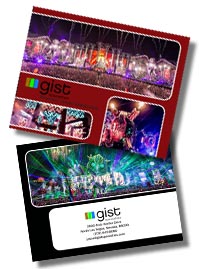 Scenic Brochure
Gist Specialties will turn your dream into a design. Your concept into a reality. With our team of skilled staff, there is no job we can't handle. Our experience in stage work and scenic design sets us apart from the crowd. No matter what stage in the design process you are in, we will help you complete your project.
Our 53,000 sqft warehouse and cutting edge technology makes Gist Specialties the premiere scenic fabricator. We have teams of sculptors, welders, carpenters, painters and other industry professionals here to complete your project. Our facility size, staff and technology makes us one of the fastest turnaround shops in the United States.
We are your one-stop-shop. Gist Specialties not only engineers and fabricates your scenic projects in house but we also create and print your graphics in house as well. We have the ability to print banners, vinyl and other graphics materials to truly make your scenic environment one-of-a-kind.
>>Download Scenic Brochure PDF<<